In order to break the rules, one first has to master them. This is the ethos of Pro Hunter, the trailblazing, London-based luxury watch house emboldening everyday discovery through its meticulously modified, ultra-durable Rolex sports watches.
We are first-to-market experts with decades of industry and product knowledge of the Rolex brand. Our team of highly specialised craftspeople who call on their legacy of working with the world's most coveted timepieces to create Pro Hunter's limited-edition, bespoke collections.
INNOVATING TRADITION SINCE 2008
Handcrafted using only the finest materials and cutting-edge technologies, the result is a range of elegant, high-performance timepieces that pay proper homage to the classics.
Kamal Choraria founded Pro Hunter in 2008 after more than two decades dealing in the vintage Rolex and Patek markets. For many years, Choraria's sporting clients had challenged him to source the impossible: a hardwearing luxury watch built for the hunt—and all the world travel, scratches, sweat and elements that come with it.
Heeding their requests, Choraria returned again and again to a singular memory of an exceptionally rare timepiece: an anti-glare black-coated Submariner, specially made by Rolex for a few British Army officers based in Africa in the 1950s. Others only hear stories of the legendary piece, but Choraria had actually felt the weight of one in his hands. Unable to shake the image, he set off to recreate a modern iteration of the priceless military watch, and thus the first Pro Hunter was born.
After handing off  his first Pro Hunter prototype to a discerning client, Choraria's groundbreaking watch brand grew organically through word of mouth, swiftly becoming synonymous with exclusive, performance luxury for active, discrete collectors.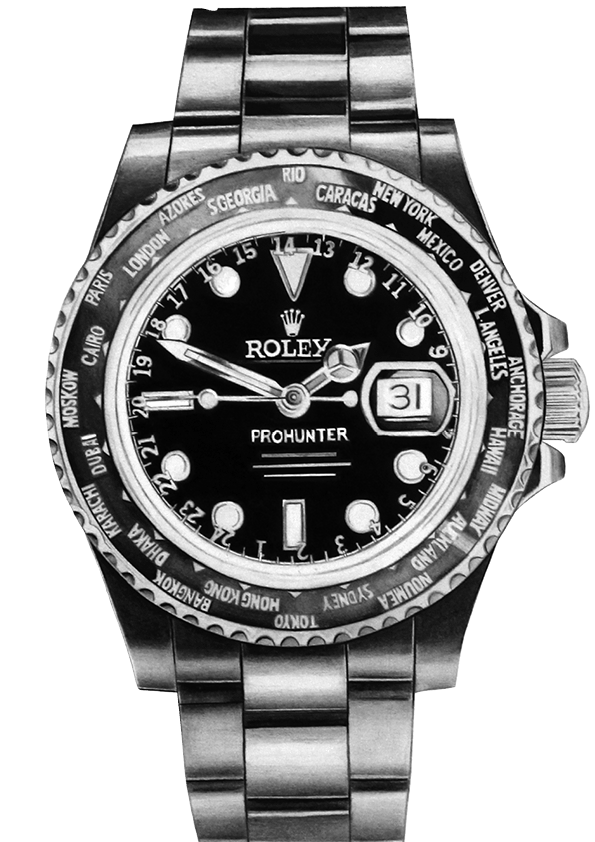 Today, Kamal's daughter Nikita Choraria helms Pro Hunter as Creative Director. Having grown up immersed in the culture and gleaning from her father a deep knowledge and reverence for Rolex, Nikita steers every Pro Hunter decision from design to operations.
Never straying too far from the originals, the boutique luxury watch house continues to grow and innovate in its category, evolving to meet the demands of its high-end collector base.
Pro Hunter is proud to be the creator of the world's first-ever modified steel Rolex sports watches. Our limited-edition designs are inspired by the iconic, action-ready models of the 1950s, '60s and '70s: Daytonas with anti-reflective bezels, "Big Crown," "Four-Line Dial" James Bond Submariners, and especially the military Submariners commissioned for a few British Army officers based in Africa.
Anti-reflective , Low friction, Excellent wear resistance.
Available in three unique finishes: Original, matt and stealth.
All of our Military models are fitted with fixed bars and a canvas strap ensuring durability and comfort for outdoor activities.
We create limited edition collections of only one hundred timepieces per model. All of our watches have numbered casebacks 1-100 making these watches extremely rare.
Nikita Choraria is a watch collector and the Creative Director of Pro Hunter. Nikita is passionate about watches and watch collecting, with a heavy focus on Rolex and Patek Philippe, having learned the subject under the attentive and meticulous eye of her father, Kamal Choraria a vintage watch academic, collector, and founder of the boutique watch customisation house Pro Hunter. Wishing to continue the legacy of watch connoisseurship in her family, Nikita moved to work with her father at Pro Hunter in 2014. Following several years of instruction under Kamal Choraria, Nikita has taken over running all aspects of the business as Creative Director of the brand. Determined to make innovative and purposeful contributions to the world of watch customisation, Nikita aims to change the mindsets of watch collectors – particularly women watch collectors – and is poised to steer Pro Hunter in a fresh direction.